X-SCAPE IS PARTENER OF SUMMER 2013 VESSEL ACTIVITIES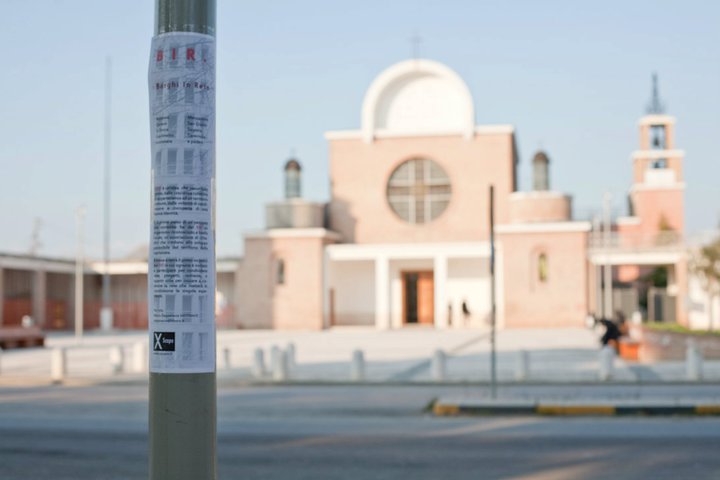 Curatorial Residency Program 2013
Vessel is looking for curators to participate in a three-week residency program, between June and
September (to be arranged with vessel team). The residency is centered in Bari, Italy and additionally
travels to the various on-site locations of vessel's affiliated projects. Candidates should be interested
in a process-driven, multidisciplinary-focused methodology, which will give them the opportunity to investigate
social practice. Specifically, curators will to interact with artists, curators and cultural operators similarly
exploring these topics in the Apulia Region.
Curators will be directly involved in some of the regional projects that vessel already regularly contributes to. Contribution to these projects will be a central part of the residency in order to see (experience) methods of cultural operation in the territory, but also to inspire a fruitful exchange of methods and strategies. These aforementioned projects combine the tools of artistic projects in order to engage with reality. Art is not the final point, but rather one of the multifaceted tools that can help speak about regional topics that are not being brought to light nationally.
Current regional projects:
*Xscape, an architectural collective immersed in their BIR (Borghi in Rete) Project. The BIR project explores fascist period construction from the 1900s and its ramifications on the community currently squatting in these abandoned structures. Physical exploration of the land and process-based brainstorming are utilized with cultural operators to construct a BIR Art Map, i.e. a map consisting of potential solutions for the territory.
More information: http://www.vesselartproject.org/2011/07/18/bir-can-we-give-a-new-identity-to-this-land/
*Nico Angiuli is a local artist that uses dance as a research tool to investigate regional agricultural conditions.
More information: http://www.vesselartproject.org/2011/04/25/la-danza-degli-attrezzi/
Other opportunities within the residency include access to vessel's artist network, project incubator and international network of collaborators. They get access to meet with owners and contributors to local galleries, art projects and cultural initiatives.
ICW 2013 – International Curatorial Workshop
Vessel is looking for applicants for its 3rd annual International Curatorial Workshop (3rd – 5th, June 2013).
The Course will be composed of fifteen young curators from around the world. They will be offered the
opportunity to work with curators and art practitioners of international reputation who have participated
in projects focusing on the various forms, analysis and creation of social art practices.
ICW 2013 will be tutored by Consonni, Leone Contini, Curandi Katz, Marco Degaetano – XScape, Fernando Garcia Dory, Carolina Rito, Wochen Klausur, Viviana Checchia, Anna Santomauro, Francesco Scasciamacchia, Charles Esche, Ilaria Gianni and Marco Petroni together with other members of vessel's committee.
Structure:
The Course consists of a single three-day workshop. It is practice oriented and conceived as an organic structure. The participants will be expected to share their experience in dealing with social practice and asked to join work groups chaired by members of the organizing team. The objectives of the curatorial course are:
- To articulate a consistent collective reflection on the contemporary role of the socially engaged art practices in the current economic, cultural and political climate
- To set up working platforms which would enable participants to develop further curatorial projects
- To encourage processes of networking among young creators in the visual art scene and the international circulation of cultural projects
Day one and day two will consist of presentations of case studies. Day three will be an open format in which participants can discuss and get advice regarding current works/projects in progress.
Contents:
The focus of the workshop is socially engaged practice and its various permutations at this point in contemporary society. We are interested in practitioners that believe in socially engaged practice as a tool to support an alternate system of labor and production; i.e. long-term engagement with marginal populations and territories rather than a limited-duration exhibition. We favor projects that apply social engagement as a means of investigating public opinion and need.
Our particular geographical area is the region of Apulia in connection with our neighbors in the Balkan and Mediterranean areas. Thus, the type of projects we seek use geographically specific information to confront political, social and cultural identity of specific populations that can be connected and applied on a wider scale.
To practically analyze this phenomenon, we will use case studies of examples of regional social practice that respond to these urgencies.
Additionally, each participant will be required to bring their own case study that connects to the instances of social practice. This can include the work of people, collectives or spaces.